If you are running an online store, one of the most frustrating issues which you would come across would be to see people show up, browse around, add items to their cart, and completely disappear. According to a recent study, nearly two-quarters of your online customers abandon their shopping carts without purchasing their chosen items.  
Why do people abandon their shopping carts?
Before looking into the Shopify email marketing app, let's first see why buyers abandon their shopping carts. This will help us in understanding how we can prevent it.
Here are some of the top reasons people leave Ecommerce sites without completing a purchase:
Extra costs, additional unexpected shipping fees, or taxes
A need to create an account
The checkout process is too long or complicated
Errors in the website or frequent crashes
Not trusting the website with payment information
No good return policy
Unable to use their preferred mode of payment
By identifying these issues, you can give them a discount or a special promotion, such as free shipping to your abandoned cart email to encourage your customers to complete their orders.
For Shopify Ecommerce businesses, this cart abandonment poses some real challenges. Generating a Shopify cart recovery email could be frustrating to many.
But with the right Shopify abandoned cart app, it is as easy as a pie.
Why should you use abandoned cart recovery apps on Shopify?
Around 40% of abandoned cart reminder emails are always opened
Click-throughs are received through 21% of opened emails.
More than 45% of the users who click on links in abandoned cart emails proceed to complete their purchase.
(Source )
If you are using Shopify, there are numerous free and premium Shopify abandoned cart apps available that will help you in reducing your cart abandonment rate. Today, we shall go through some of the best  Shopify abandoned cart apps.
What to look for in a Shopify abandoned cart app?
A Pop-up builder – So you can recapture customers using an exit intent pop-up before they leave the website.

Attractive and one-of-a-kind email templates – It is a bonus if it's mobile optimized and it has a drag and drop editor.

An abandoned cart rate calculator – This will make things easy for you. Use the calculator and understand how many percent of customers you have lost to abandoned carts and prepare a game plan to combat it.

Track and target abandoned carts in minutes..
Here are the top Shopify Abandoned Cart Apps for your online store:
1. BayEngage
BayEngage is an all-in-one email marketing solution by TargetBay. It has everything you need in a Shopify abandoned cart app.
With BayEngage, you can set up automatic email recipes for abandoned cart emails. In addition to Shopify email automation, BayEngage has over 60 email templates just to address the abandoned carts by the visitors of your website.
BayEngage is trusted by over 4000 companies across the world as the best Shopify abandoned cart app and the product is also easy to use. Along with winning back your lost customers, you get higher email deliverability and email engagement.
If you are a Shopify store owner, BayEngage has direct integration with Shopify and so you can directly plug in BayEngage to your Shopify store and start sending those Shopify abandoned cart emails.
BayEngage's Cart Abandonment Recovery Abilities:
Generate Exit Intent Pop-ups

60+ Shopify abandoned cart email templates

Email automation recipes that are precise and intuitive

Cart abandoned rate calculator

Millions of stock images

Drag and drop editor to personalize your emails

Accurate data analytics

Schedule emails ahead of time

High email deliverability
Are Your Visitors Adding Items To The Cart
And Leaving Your Online Store?
Bring cart abandoners back to your website with
contextual and well-timed cart abandonment emails.
2. MoonMail Recover Checkouts
One of the most basic Shopify abandoned cart apps. In this you have the option to customize and store up to five email templates for your recovery mailers, including your preferred Shopify abandoned cart email template. You can also configure those emails to send triggers automatically since the time of cart abandonment.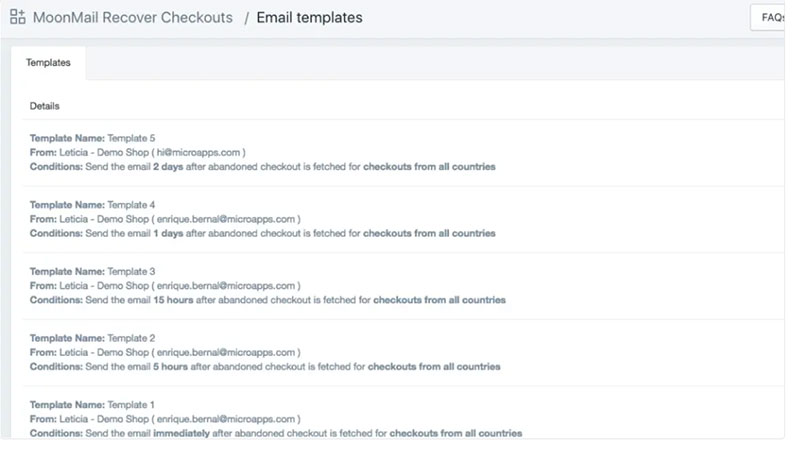 If you're ready to pay an additional premium, you can also get some hands-on control over your email sending option as well as a ton of other features. This application is the most basic out in the market but it does get its things done, but if you want more scroll down to check other Shopify abandoned cart apps.
User's rating: 4.8/5 with 313 reviews
Our rating: 4/5 (Gets the job done)
Price: Free for the first 20 emails, the later ones will cost you. 
3. Smart Cart Recovery – Gravitate
A standard cart recovery plugin, much like many of the other items on this list. If recovery emails are your concern, this is one of the best Shopify abandoned cart app. It does email recovery, and like other apps it allows you to message customers via Facebook, neither of which is a unique or particularly compelling offering.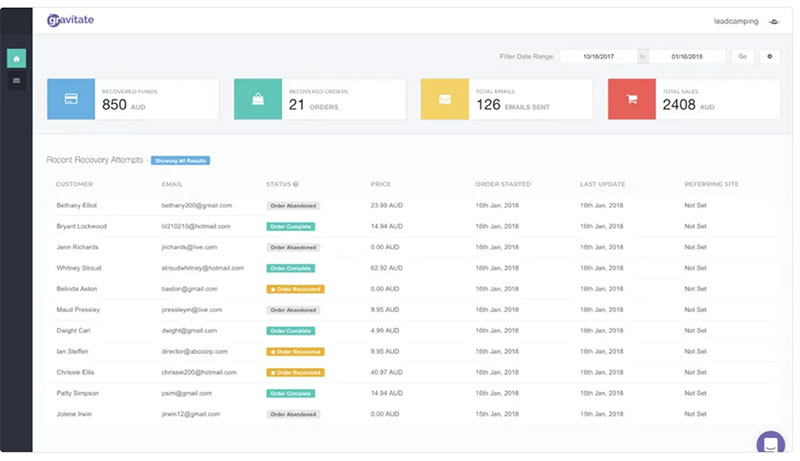 But we put this app on the list for two reasons. Firstly, it's simple. You don't require a complex Shopify abandoned cart recovery app, and sometimes all you need is something that uses the channels that you use most often. If email and Facebook are those channels, this is an ideal Shopify abandoned cart app.
Secondly, it allows you to use both channels simultaneously. You can send an email and, if that doesn't work for you, you can follow up with Messenger, and back and forth as much as you want throughout your campaign. 
User's rating: 4.7/5 with 50reviews
Our rating: 4.1/5 (Simple, easy to use)
Price: $8 per month for just emails, $14 per month for Facebook Messenger and email
4. Parachute from Cleverific
Parachute is Shopify abandoned cart recovery app, with a twist. In a situation when a cart is abandoned, they add it as a draft order to your Shopify system, which will, in turn, allow you to edit the order, to add incentives such as additional free products or add a certain discount to the overall order before you send your reminder email to the customer.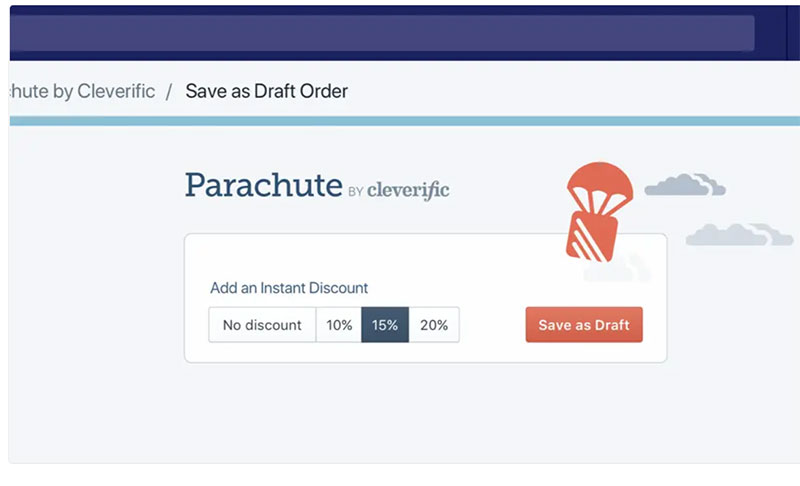 Technically, it allows you to remind users with a "Hey if you want to purchase now, we'll throw in XYZ for no additional charge!" reminder. Apart from that, it has integration with the Cleverific system, if you use that.
User's rating: 5/5 with 20 reviews
Our rating: 4.8/5 (An intriguing app for lucrative marketing campaigns)
Price: Free for 5 emails per month, $9 per month for 20 emails, and $24 per month for 75 emails.
5. Abandonment Protector – Chilliapps
If you want a highly minimalistic Shopify abandoned cart recovery app, this is a robust app with a few but smart lead generations and marketing tools that function as cart abandonment tools as well. 
They have conveniently placed exit intent pop-ups, which pretty much functions the same way as the Shopify abandoned cart recovery app mentioned on top.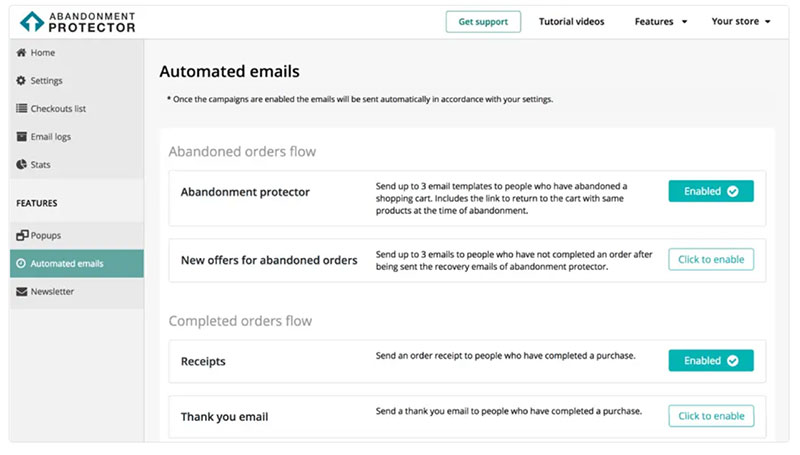 Apart from that they also have support for email campaigns, cart reminder email campaigns, and even drip campaigns. Last but not the least, we are really impressed with the way they handle newsletter management. Overall, his is a good email marketing platform for Shopify, and in addition to the above mentioned features, it has numerous Shopify abandoned cart email templates to choose from.
User's rating: 4.8/5 with more than 300 reviews
Our rating: 5/5 (A do-it-all application with smart tools)
Price: $8 per month for 3000 emails and an added charge of $1.50 per thousand emails further.
6. Instant Buy from Eggflow
This is an interesting Shopify abandoned cart recovery app that has two features. The first you'll notice is the instant buy button, which can replace your existing add to the cart button. Customers, who are interested to add an item to their cart, maybe they might be interested enough to buy instead? For starters, this app works for certain kinds of stores, but not applicable to every store.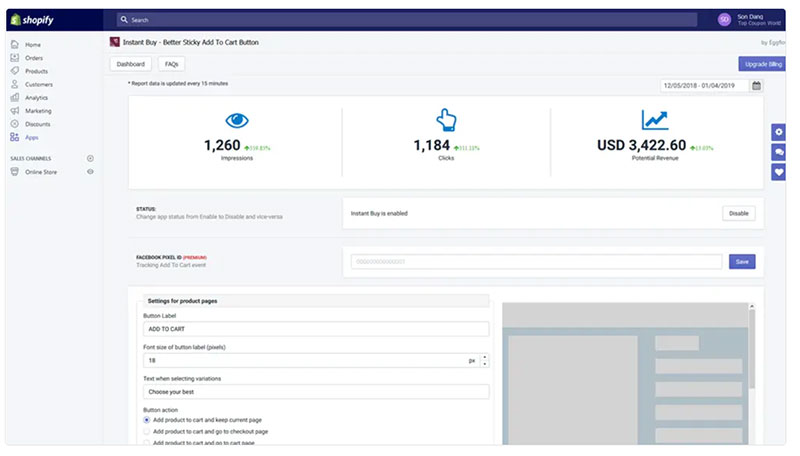 Another amazing feature is the Facebook pixel integration. When a buyer adds a specific item to a cart, and they don't proceed to buy that cart, they are then added to a Facebook tracking list for you. You can then use this as a specific tool for remarketing the list with Facebook ads.
User's rating: 4.5/5 with 166 reviews
Our rating: 4.2/5 (For specialized marketing channels)
Price: FREE
Abandonment Guard from Sticky Apps
Sometimes all you need is a simplistic email campaigning app and Abandonment Guard from Sticky Apps does it pretty darn well.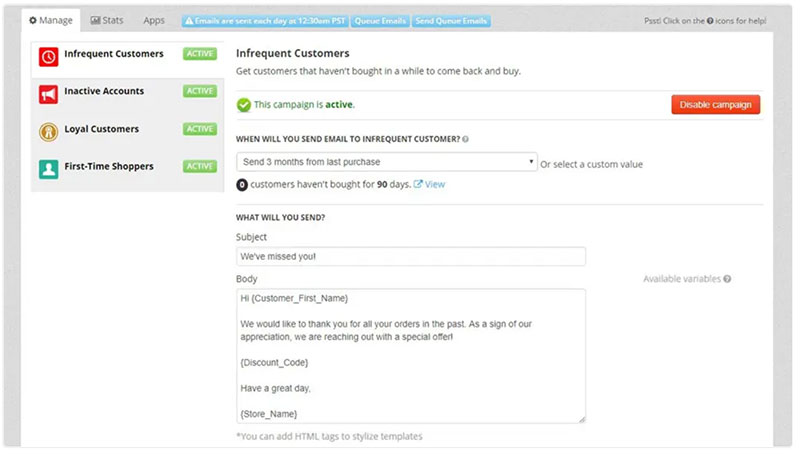 It monitors the prospective users who add items to their carts and don't purchase it. This allows you to send emails based on Shopify abandoned cart email templates to those users to try and get them back. You can deliver some unique offers or just send reminder emails.
However, it does not bother managing your newsletters or anything else, it's just a simple abandonment reminder. If you're running a small online store, this will work perfectly for you. 
User's rating: 4/5 with 10 reviews
Our rating: 4.1/5 (For mini-online stores this is a safe bet)
Price: $10 per month
7. Recart
Recart is one of the best Shopify abandoned cart recovery app in the market today. In this app, users are allowed to send automated messages to every customer who has abandoned their shopping carts. This will motivate the customers to complete the checkout process quickly and purchase your product. Recart also provides some intriguing tools for converting your visitors into subscribers. It is very user-friendly and opting for a subscription is quite easy.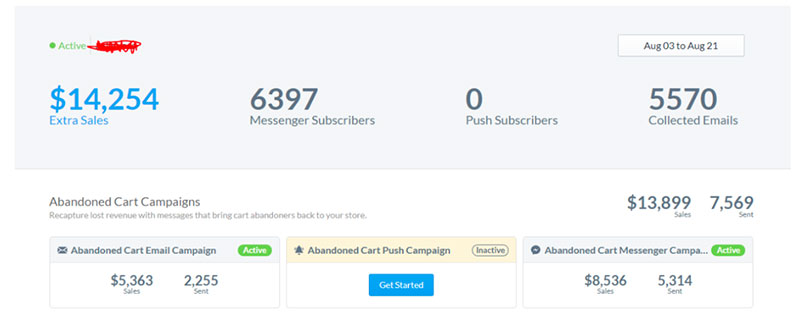 It even has an automated Facebook messenger campaign, which assists in driving the cart abandoners back to your Ecommerce stores. After purchase completion, it sends a discount code with the receipt along with Shopify email notifications and even a follow-up message.  
User's rating: 4.8/5 with more than 1000 reviews
Our rating: 5/5 (Tons of features, robust app, increases engagement and interaction)
Price: $29 per month for small businesses, and $499 per month for expanding businesses
Summing it up
Watching your sales plummet down due to abandoned carts can be a frustrating experience. However, you can rectify this issue by using the above mentioned trusted and proven applications. They can decrease your cart abandonment and increase your ROI. If you are looking for similar applications, you may also check out TargetBay's BayEngage; a Shopify email marketing tool that is optimized for a wider market and is purely driven by Data.
Impressed With BayEngage's Features And Pricing? Start your 14-day free trial now!!
Do you use any preferred cart abandonment app for your own Shopify store? If so, and if it's not on this list, please let us know in the comments below!
60+ Abandoned Cart Email Templates
Waiting For You!
Pick a template, customize it, and set up an
abandoned cart workflow!