Getting to know behavioral pop-ups
You've just landed on an eCommerce store. You browse around the store aimlessly, just like one would be while window shopping in a mall. If you are like most online shoppers, seven out of ten times, you will not be driven by a high intent to buy something. Episerver's 2018 Reimagining Commerce report (opt-in required) found that only 17% of customers say buying something is their primary purpose when visiting a brand's web site.
But, then — a pop-up — a box floats on the screen out of the blue. It catches your attention — not because of its size, but with its message and how it matches your just-completed erratic browsing behavior.
If you are a first-time visitor to the store, expect something like this: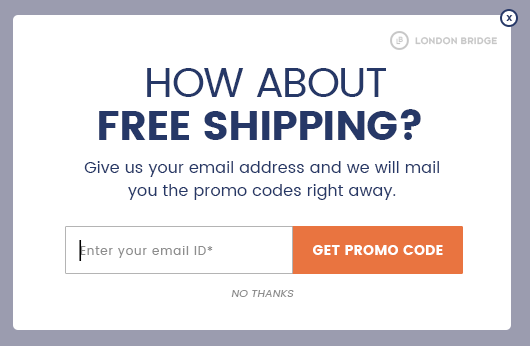 You will stumble upon strategically placed pop-ups like these that announce a special deal, request you to reconsider abandoning an order or offer some other good stuff that you might be interested in.
These pop-ups that have focused messages and which drive the user to perform a specific action are called behavioral pop-ups.
Compared to other pop-ups that are often hated for their interruptive nature, behavioral pop-ups are highly-converting. In fact, if done right, they fall perfectly in sync with the permission marketing tactics that Seth Godin has been preaching for over two decades now.
Behavioral pop-ups are like fishing nets that catch your visitors at the right time before they leave or abandon your shopping cart.
If you dig deep, you will notice that behavioral pop-ups undo most of the harm that pop-ups have been doing until now.
Let's take a quick look at why users are not excited to see pop-ups and are always in a hurry to escape it.
Why do users dislike pop-ups?
They are intrusive – Too many pop-ups ads at frequent intervals makes visitors hit the close tab button quickly.
They are flashy – Poorly designed pop-up ads with too many fields are definitely a no-no for users.
They are often irrelevant – Oddly timed and an irrelevant messaging/offer dampens the conversion power of the pop-up.
They are hard to exit – Hidden, inactive and hard to find exit buttons makes visitors feel coerced into action.
It is not surprising that pop-ups have been branded as simply annoying.
How to use pop-up ads the right way
If you are keen to leverage the high-converting power of pop-ups, you must learn the best practices of using them.
Contextual relevance
Pop-ups interact with your users on an individual scale. It is essential that they are contextually relevant to the products/services or deals that they are interested in. To cite an example, a first-time visitor can get a 10% off on first order while a repeat customer can opt for free-shipping or promo coupons for additional discounts.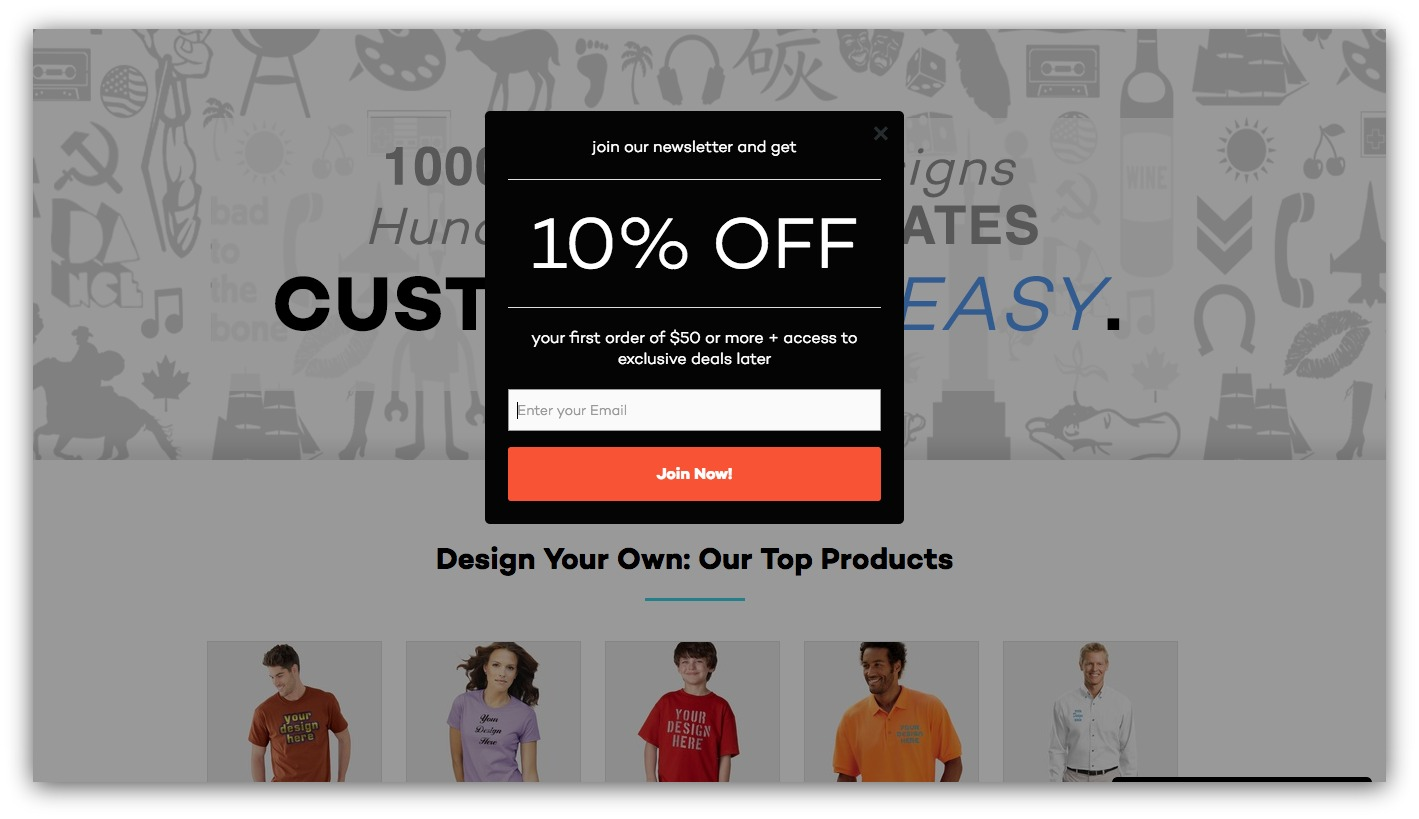 Timing
As soon as a user lands on the page, don't barge into their journey with a pop-up. Give it some time for them to consume the information on the page. In marketing language, let the user arrive at the consideration stage. A well-timed pop-up ad can nudge them from consideration to active decision-making. Depending on the page and its purpose, you can time a pop-up on an incremental basis such as 10 seconds, 20 seconds or even 60 seconds.
Pro tip: Google Analytics provides accurate information on the average time spent by users on a specific page. You can time your pop-up before that average to gain maximum visibility.

Subtlety
A subtle pop-up that has minimal fields and a non-flashy design can be a big boost to user experience. And, it is not necessary that it is always to sell something. You can also push pop-ups that put the user in a loop with your content or marketing efforts, like how Buffer does it.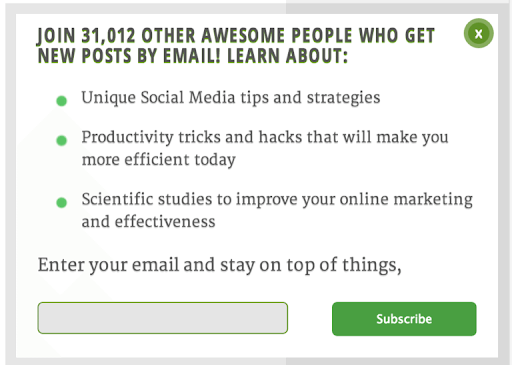 Positioning
There is no rule that pop-ups should appear only bang on the center page or should occupy the full-width of the screen. Pop-up ads can be positioned in extreme corners, top of the page or at the footer have also proven to grab user attention. In fact, the choice of the pop-up also matters a lot in conversions.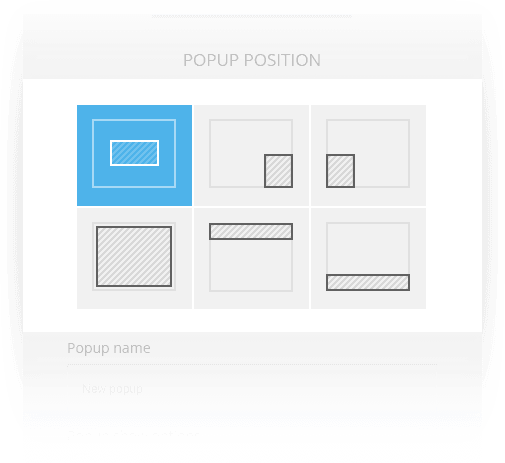 Behavioral targeting of pop-up ads
Using pop-up ads in eCommerce stores has proven to increase conversions, drive more email subscribers and also curb exit intent. From Amazon to McDonalds, why — even IKEA uses pop-ups to maximize their conversions (Source). You can choose from various types of pop-ups for your store, like:
Simple opt-in pop-ups
Opt-in pop-ups with offers
Scroll-triggered pop-ups
Exit-intent pop-ups
Here are some ways how you can use pop-ups to grab user attention and turn them into paying customers.
Incentivize new users
Turn curious first-time visitors into impulsive buyers with simple opt-in pop-ups that offer a discount, free shipping or a promo code.
Create a sense of urgency
Create time-bound offers and broadcast them with pop-ups that create a sense of urgency in visitors to buy your products.
Broadcast flash sales
Announce flash sales, seasonal offers, clearance sale and much more with pop-ups.
Curb exit-intent with coupons
Configure pop-ups that can recognize the exit intent of users with scroll movement closer to the close button.
Bringing it all together
Not everybody is an ardent fan of pop-ups. Most shoppers frown up it as a dampener of their eCommerce shopping experience.
But, that is because they are not properly timed or positioned. If used well, pop-ups can reward you with a high rate of conversion that beats email marketing or even paid marketing.