Download TargetBay Extension Module
Do you run your eCommerce store on Magento?
If yes, you just have two steps to generate the keys and install TargetBay extension using the Magento Admin Panel. We request you to follow these steps to put you on a fast-track to understand what your customer needs and how to get it done for them-
Step 1- Visit the link
www.magentocommerce.com/magento-connect/targetbay-tracking.html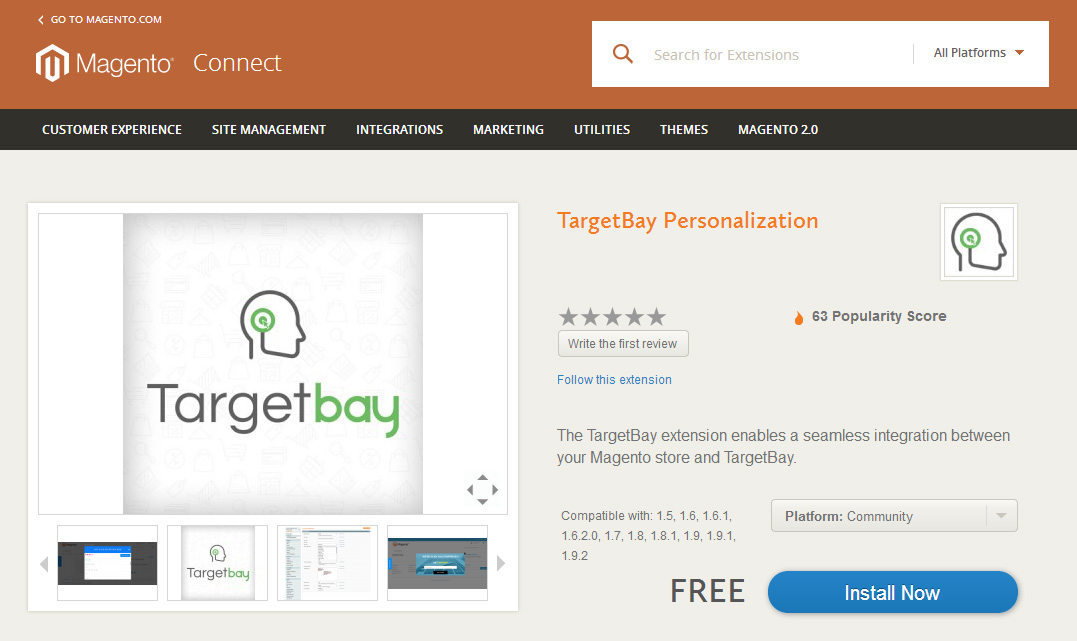 Step 2- You will see the TargetBay personalization extension listed by Magento Connect.
Step 3- Now log in to your Magento Admin panel account by clicking "My Account"
Step 4- Click "Install Now" to get started with TargetBay.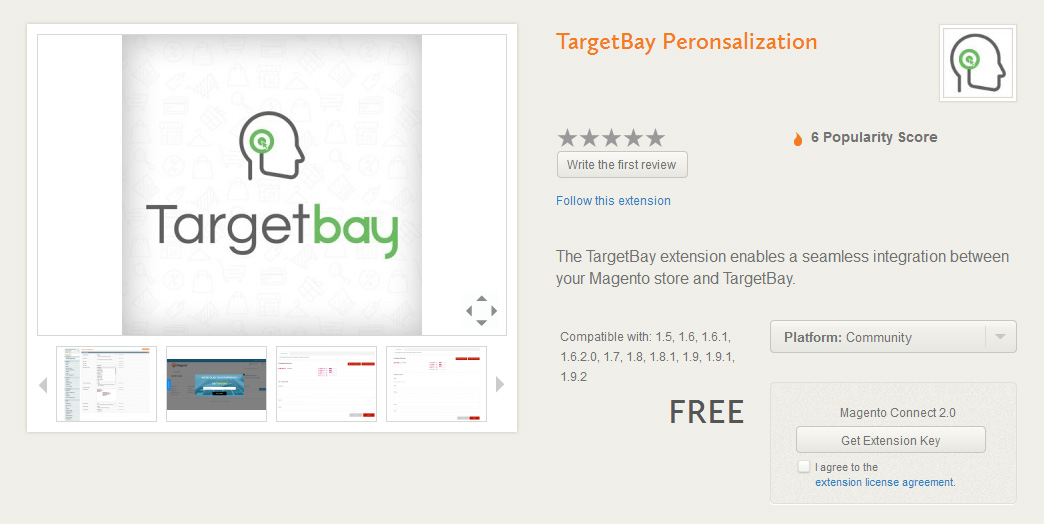 Step 5-Please do not forget to get the "Extension Key" and accept the Terms & Conditions)
Step 6- Click on "Select key" to get the TargetBay Extension Key
KEEP THIS EXTENSION KEY COPIED OR REMEMBER THE KEY***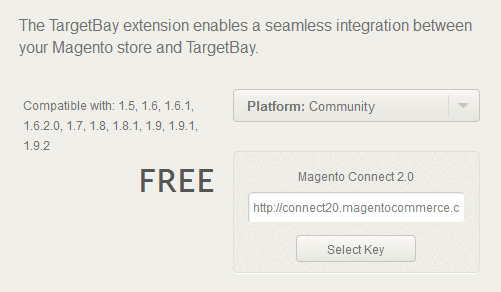 Installing TargetBay
To run the TargetBay tracking tool, it needs to be installed and activated in the Magento Admin Panel.
Follow us carefully and GET STARTED-
Step 1- Log in to your eCommerce shop's Magento Admin Panel

Step 2- Now click on system on the Menu Bar that appears on the right hand side.
Step 3- Click "Magento Connect" from the drop down list and select Magento Connect Manager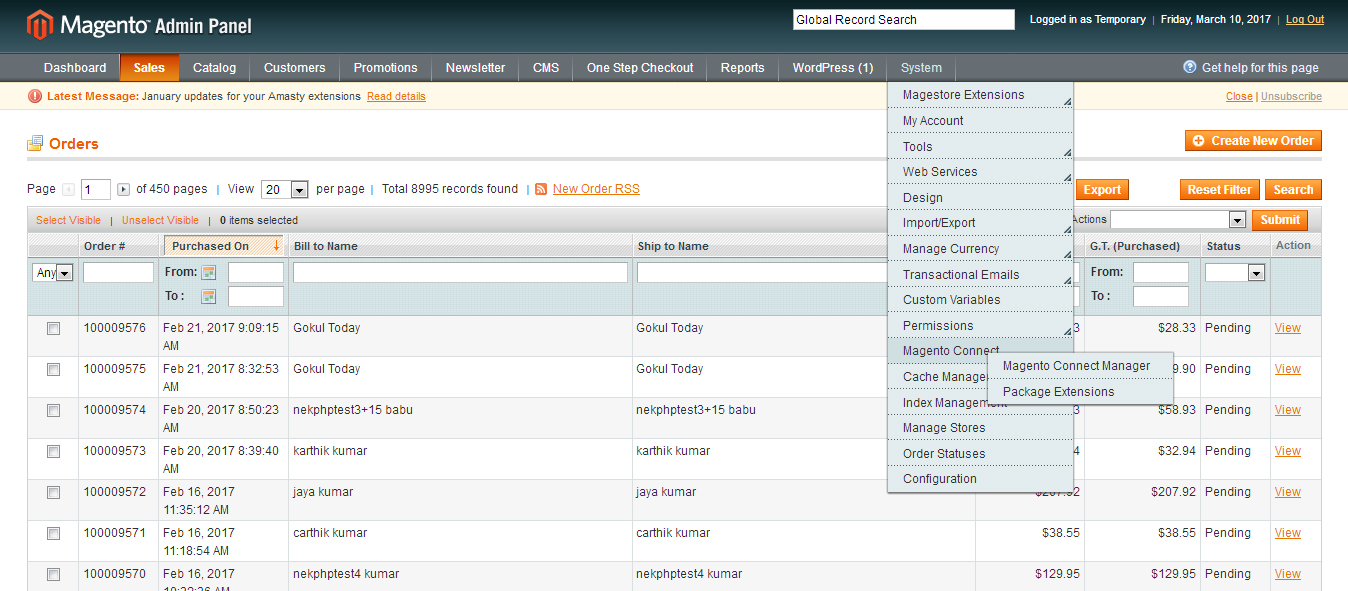 Step 4- In order to verify your credibility, you will be asked to re-enter your user ID and password to enter the Magento Connect Manager portal.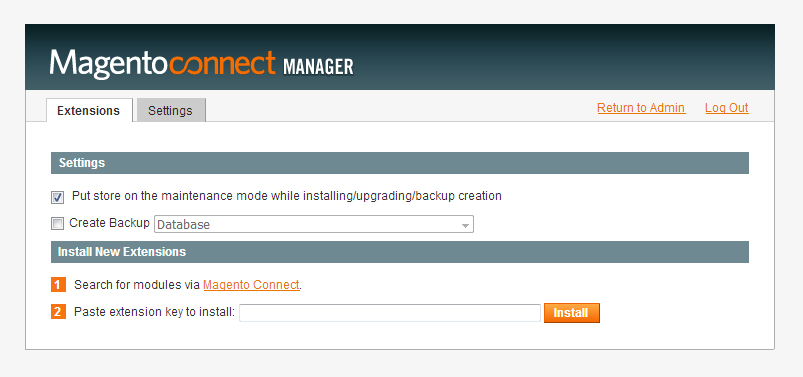 Step 5- Under the Install New Extension section; enter the key copied from Magento Connect Page.
Note- If you have not generated the Key yet, Please go to "Do you run your eCommerce store on Magento?" section and follow the steps to instantly get the key.
Step 6- Once installed; please make sure that the new installation is listed under the "Manage Existing Extensions" list.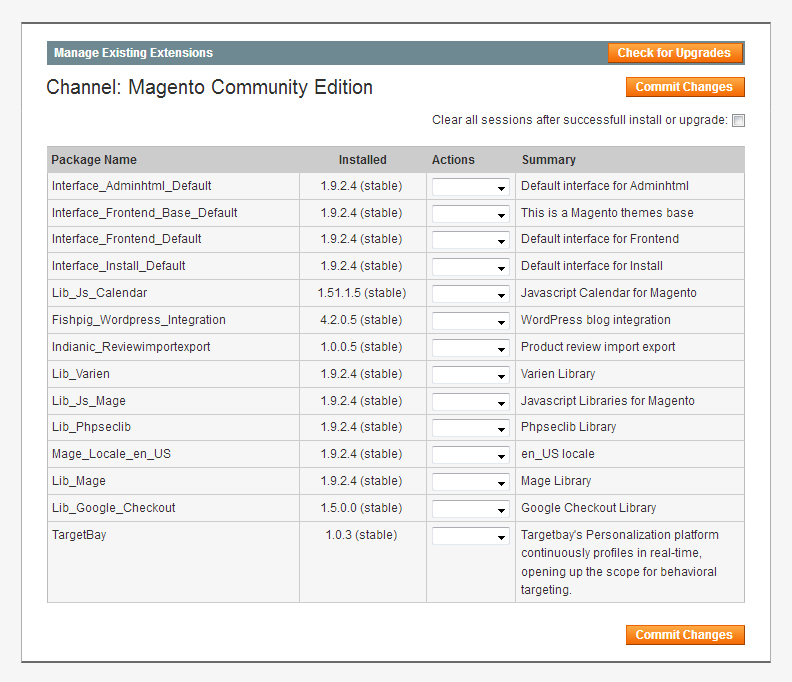 Step 7-Now go to the Admin Panel and Logout.
P.S. Logging out will allow Magento to get accustomed to the desired changes.
Step 8- Now, Log in with the admin credentials to activate the changes.
Step 9- In the main page, click on systems in the main menu and navigate to configuration.
Step 10- Once you enter the Configuration page– Navigate to Tracking Configuration in the left menu section.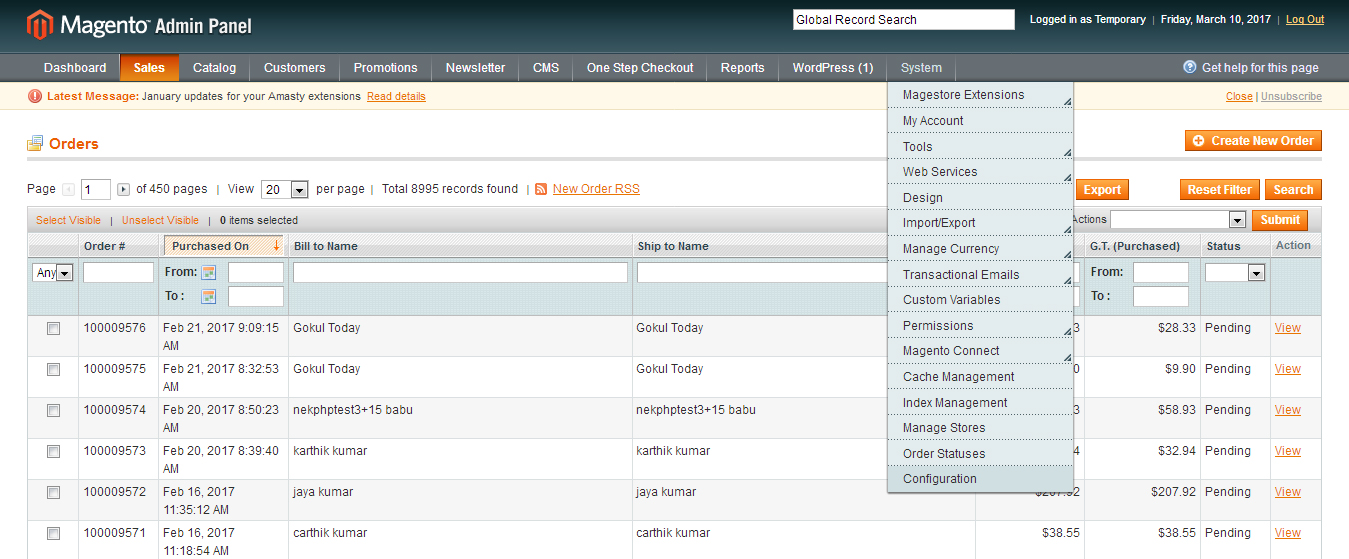 Under Tracking Setup-
ENABLE MODULE: Set the status to Enable to get started with the TargetBay tracking tool. You can choose to disable, if you wish to stop using the tool from tracking your stats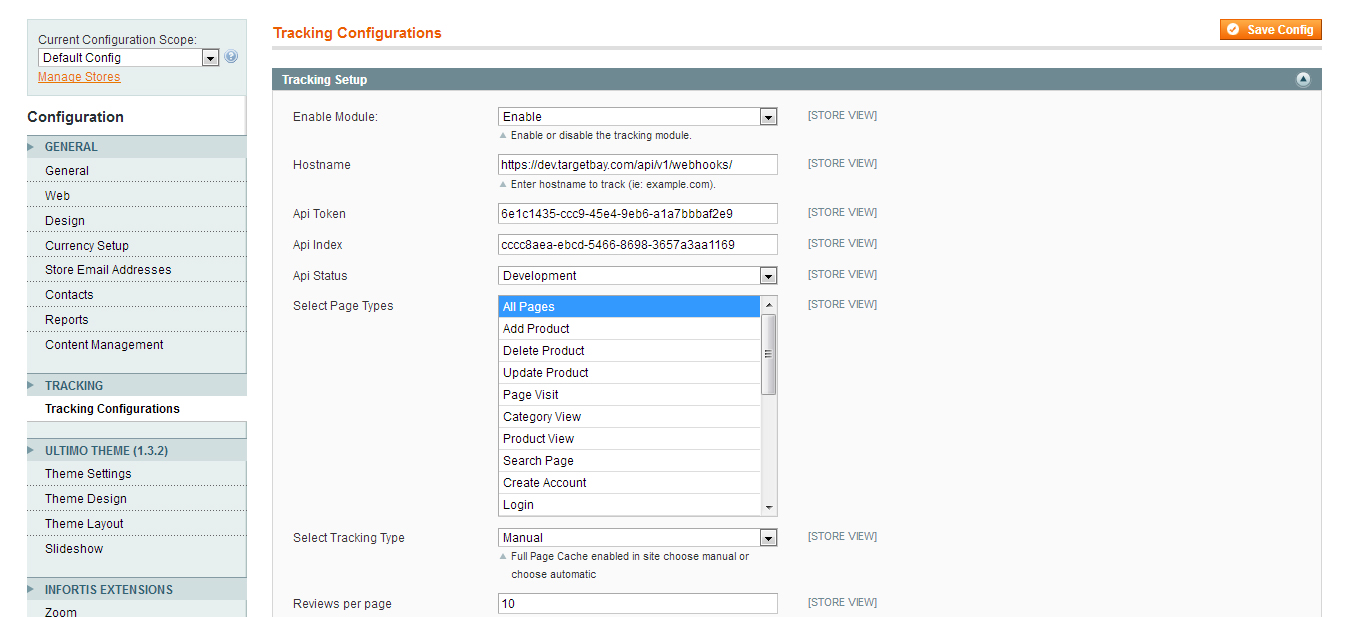 Now You Will Be Wondering How To Fill In The Blanks
Well, there you go-
Hostname- Contact Targetbay team API token- Contact TargetBay
API Index- Contact TargetBay support team
API Status- Contact TargetBay support team
Now select Page types- We strongly recommend that you run the TargetBay's tracking tool to "All Pages" to track customers' navigation & purchase pattern. You can also choose to run the tracking tool to only certain selected pages.
Configuring Magento Rest API Settings
Step 1- Create oAuth consumer application by clicking System—>Web services—> REST oAuth Consumers.
Step 2- oAuth consumer grid is shown. You can register n number of consumers in Magento that can be used by various third party oAuth clients to access your Magento resources.
Step 3- Now click "Add New" button to add new Consumer application
Step 4- On "New Consumer" box, enter any customer name.
Step 5- Key and secret will appear on the screen. (COPY THEM IN A NOTEPAD or A WORD FILE FOR NOW)
Step 6- Leave the Callback URL and Rejected Callback URL fields blank for now
Step 7- Save Consumer app by clicking "Save"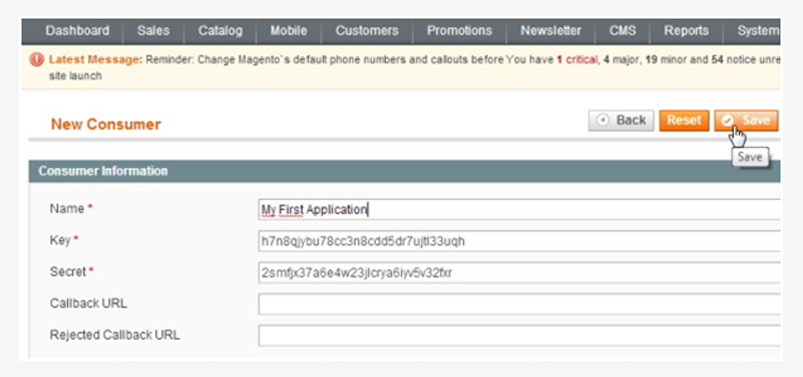 Now, Let Us Learn How To Create And Configure Admin Roles
We will have to create privileges to certain users to be able to operate Magento REST services to access restricted resources.
Step 1- Navigate to System—>Web services—> REST Roles. There are two REST user types available and they are-
• Customer
• Guest
For Targetbay, We Would Require Admin Permissions To Perform Certain Tasks And You Have To Create Admin Roles
Step 1- Click on "Add admin role" button in the right hand corner
Step 2- "Add new role" screen is shown. Now, enter the role as "Admin" in the field.
Step 3- Click "Role API resources" tab on the left which will yield "Role resources" screen. Now decide which box has to be checked to permit that Admin to have access to specific resources. You can create a Super Admin by clicking on the option "All".
Step 4- Click "Save role" button in the top right corner of the screen.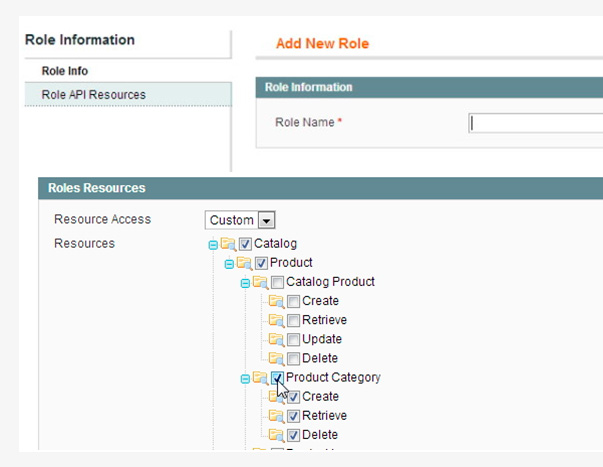 How To Configure Resource Attributes And Access Permissions?
This is going to be very simple-
Click System—> Web services—> REST attributes
There will be three user types listed, namely-
• Admin
• Customer
• Guest
Step 1- Now, click on "Admin" in order to configure REST resource attributes that the Admin would be given access to.
Step 2- Under "User type resources" screen, select the resources that Admin user type can access or you can select "All"
Step 3- Click on "Save"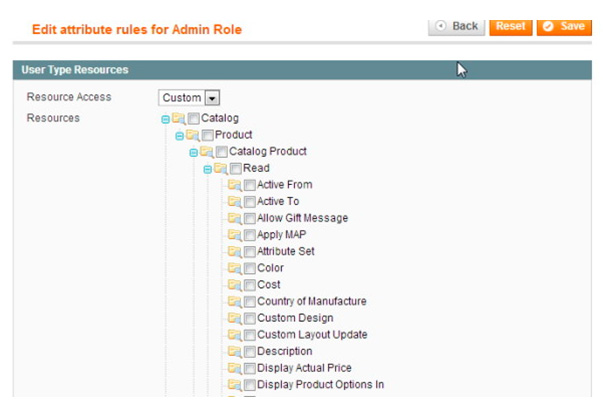 Admin Roles Are Defined But How To Allot This Role To A User?
Step 1- Go to System—> Permissions—> Users. "Users" grid is shown with the list of registered Magento Site Admins.
Step 2- Click on TargetBay admin user from the list in order to open "Edit user" screen.
Step 3- You can find a tab named "REST role" on the left. Click on it and a list of admin type roles will be displayed.
Step 4- Click on "Assigned" radio box adjacent to the role name
Step 5- Save User.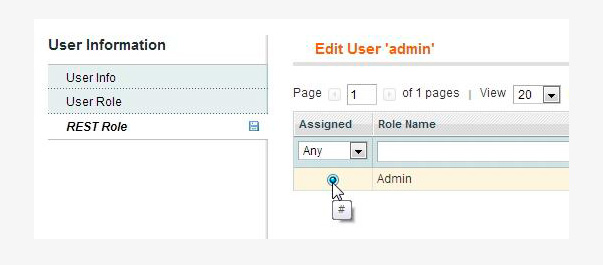 Hurrrah! You have successfully completed assigning Admin(s) to be able to access REST resources on our Magento.
Getting Started With TargetBay
Step 1- Open your preferred browser and type app.targetbay.com

Step 2- Key in your Username and password as shared with you over your registered email.
Step 3- You will be safely routed to TagetBay's stunning Dashboard.
Your Dashboard With More Power! The Dashboard With Precision!
The TargetBay Dashboard is all that you need to look into for precise data and analytics of the performance of your eCommerce website.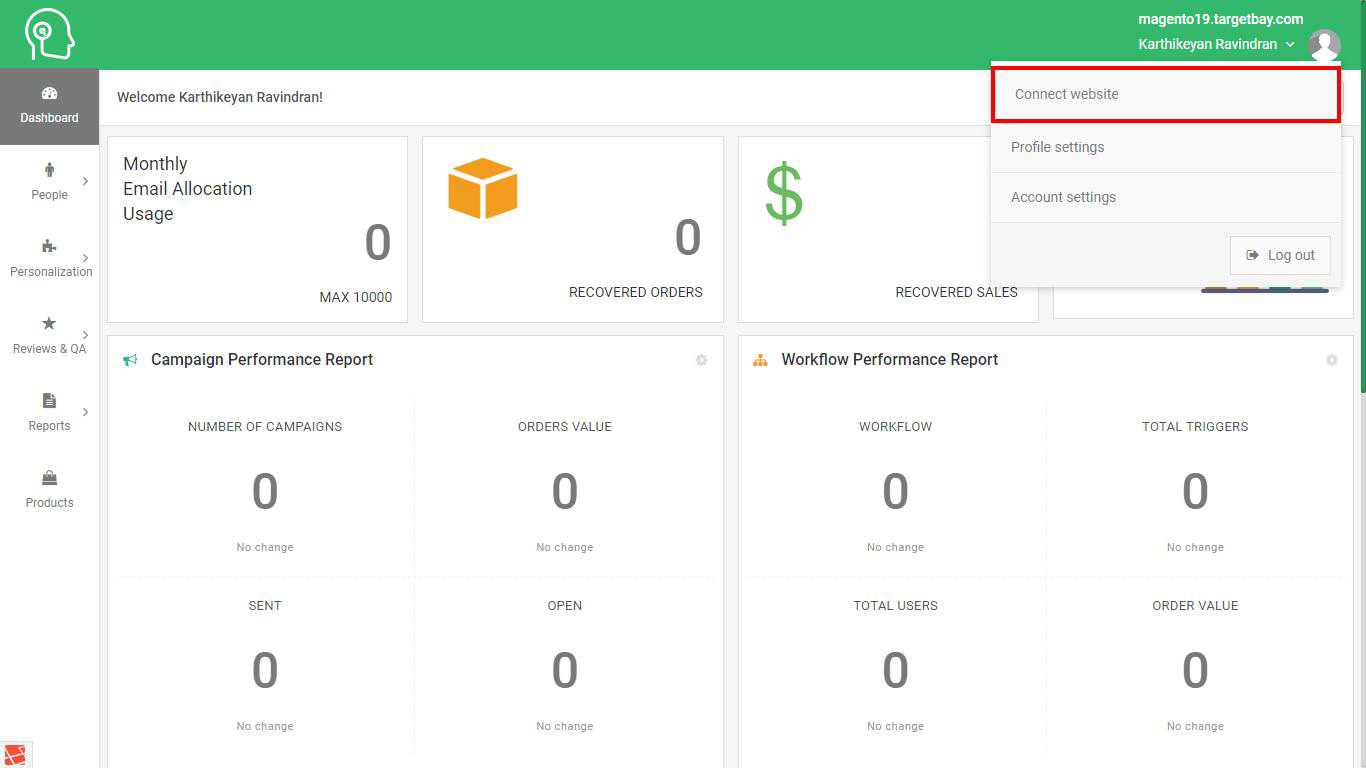 Now you have to connect your website with the TargetBay tool to enable us to work on improving your ROI. Please follow these steps to connect your website with TargetBay-
Step 1- Click on to the profile option on the right hand corner of your dashboard
Step 2- Click "Connect Website" option from the drop-down list
Step 3- Enter your Website URL and API URL which are as same as your Website URL. If your website URL is https://www.your_domain_name.com, please enter it in the fields.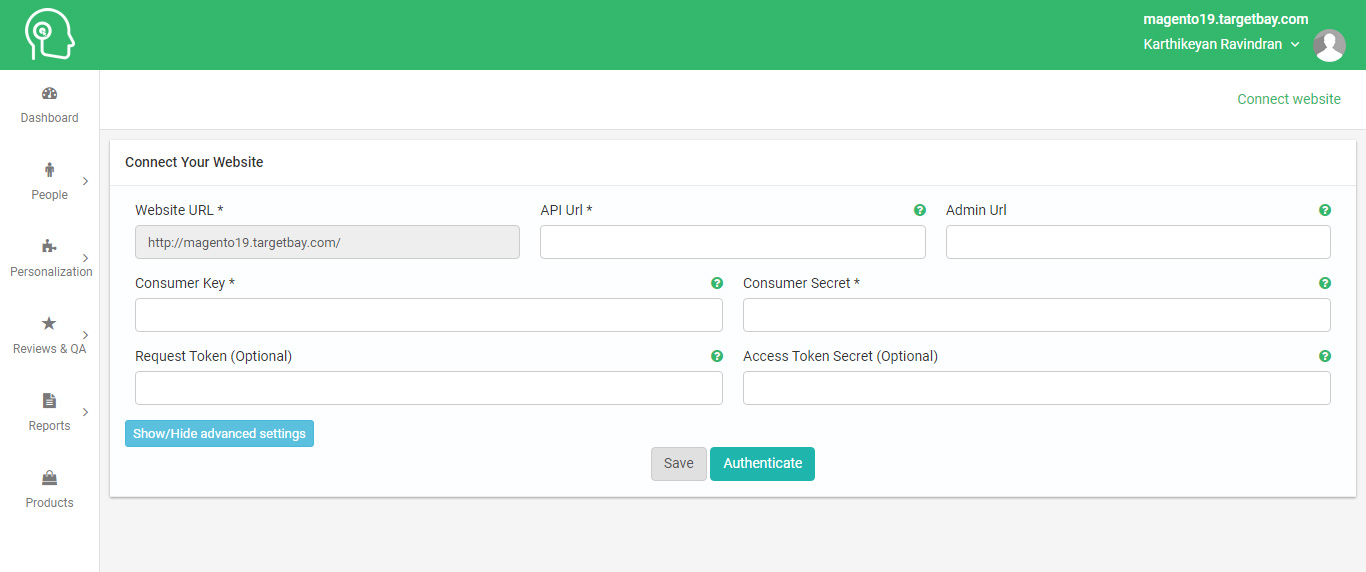 Do you remember us telling you to make a note of the consumer key & consumer secret?
Key in the consumer key & consumer secret and please ignore Request token & Access token secret for now. Click "Authenticate"
You have successfully authenticated TargetBay to work on your eCommerce store to keep doubling your revenue.